Utility units tend to be geared towards non-combat functions (compared to combat units), but usually have useful abilities to augment the fighting capabilities of their combat-capable teammates. Examples includes Scouts, Mobile Shield Generators and just about anything else that can increase survivability or effectiveness in some way.
One example being the inclusion of a T1 Land Scout in a force whose range typically exceeds their line of sight. This allows for those units to attack further than they would normally be able to. To further enhance the fighting abilities of the force, one could include some mobile shield generators, to increase survivability.The mobile stealth generator is a utility unit exclusive to the Cybrans.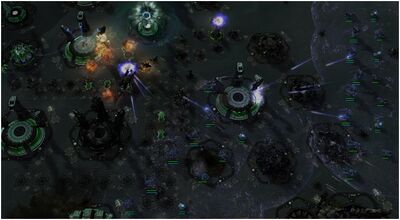 Many other units, not listed, have utility aspects and combat aspects. The UEF Fatboy, for example, is mainly a long range weapons platform, but can refuel aircraft, build units, and produces an area shield. Likewise, aircraft carriers can refuel and carry aircraft but have anti-air as well. Both the Aeon Harbinger and the Cybran Mantis have small engineering suites to repair allied units.
Pages in category "Utility units"
The following 13 pages are in this category, out of 13 total.
A

C

S

S cont.

T

U

U cont.
Ad blocker interference detected!
Wikia is a free-to-use site that makes money from advertising. We have a modified experience for viewers using ad blockers

Wikia is not accessible if you've made further modifications. Remove the custom ad blocker rule(s) and the page will load as expected.