Shield Generators
Mobile Shield Generator
Tech 2 Shield Generator
Tech 3 Heavy Shield Generator
Tech 2 Shield Boat
Tech 3 Heavy Air Transport
The Cybran T2 Shield Generators, successively nicknamed the ED1, ED2, ED3, ED4 and ED5, are Cybran defense units. The shield generator, when activated, draws power to generate a protective hemisphere large enough to shield several buildings or a considerable force of units. Sufficient 'damage' to the bubble will cause it to collapse, leaving the generator vulnerable until it has recharged.
The Cybran T2 Shield Generators can be upgraded, as quoted from the game: Upgrade increases shield's size, strength and operating costs.
Upgrades, Factional differences
Edit
The Cybran Shield Generator may be upgraded up to four times, each upgrade increasing the radius, power consumption and damage tolerance of the force field. Upgrading is carried out by selecting the shield projector and using the upgrade button. Costs are cumulative.
The ED1 is by far the best stationary T2 shield in the game. Although weaker than it's factional counterparts, it's dirt cheap. At 160 mass, it's cheaper than a Tech 2 tank/bot. Furthermore, it consumes only 100 energy, and builds extremely fast. While this shield is not as durable as its counterparts (nor is it meant to be), it really shines at guarding random structures on a spread out map, from light/sparse attacks, like from bombers, ground troops or TML (as a matter of fact, they are cheaper than the missile fired at them). If you are playing as the Cybran, than you have no excuse not having one guarding each and every one of your mass extractors.
However, as you upgrade your shield, you'll come to realize that you will soon be putting lots of resources into a shield which becomes underpowered over the upgrades. Since costs for upgrading are cumulative, in the end, the ED5 is about 1.5~2 times more costly than its Tech 3 counterparts, for an overall weaker smaller shield. Also, with the total resources it would take to upgrade to the ED5, a player could build between 20 and 30 ED1s.
It is generally accepted you get the best bang for your buck at ED4. You should only upgrade to ED5 if you are trying to defend an absolutely critical position, and there is no room for more shields. Furthermore, the ED5 only has an extra 1000 shield compared to the ED4's 13000. Combined with a longer shield rebuild time, the ED5 is actually lesseffective at taking prolonged fire. The only advantage of the ED5 is a larger shield radius. At T2, cybrans should immediately set up their shield generators as the cost and time of having to build, repair, and rebuild will be annoying.
Unitbox details
Edit
The values in the unitbox are the costs to upgrade the shield, not its total cost. For example, 800 mass is required to upgrade the ED2 to ED3. The final ED5 tab shows the total cumulative cost for an ED5.
The ED1 has the same amount of shield health as a UEF parashield and less than an Aeon Asylum, putting it more in context with a mobile shield of the other factions than a stationary shield.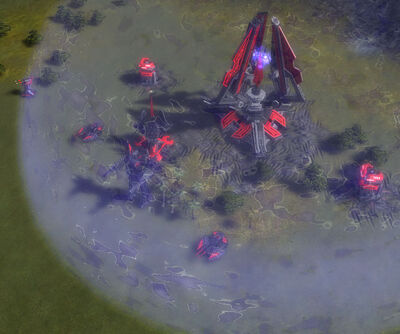 Upgrade levels
Edit