| | |
| --- | --- |
| | Cybran T3 Anti-Air SAM Launcher: Myrmidon |

f

 

•

 

s

 

•

 

e

  High-end anti-air tower. Designed to engage all levels of aircraft.
Build Costs
-12000
-1400
1500
Max Health
10500
Veterancy
12 ( +3/s)
Intel (Radius)
Vision: 28


Anti Air - Projectile

DPS
336
Projectile  Damage

300

Salvo Size
Reload time
4 Projectiles (in 0.6 s)
3.6 seconds

Range
60
The Cybran T3 Anti-Air SAM Launcher, nicknamed the Myrmidon, is a Cybran anti-air unit.
It fires bursts of four highly accurate surface-to-air missiles every one second from two four pack missile racks. Three launchers are capable of destroying an Aeon Illuminate Czar in under a minute. It is the most powerful fixed AA defense, and one of the most powerful AA units in the game.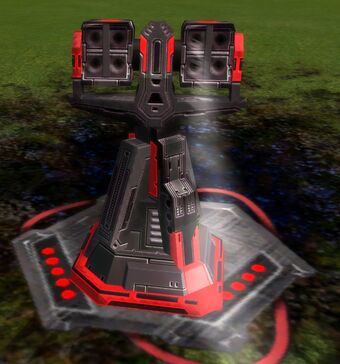 Ad blocker interference detected!
Wikia is a free-to-use site that makes money from advertising. We have a modified experience for viewers using ad blockers

Wikia is not accessible if you've made further modifications. Remove the custom ad blocker rule(s) and the page will load as expected.