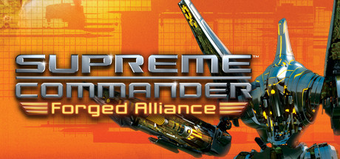 Full credit for the research and Full credit for the research and  of this article goes to the great Lu_Xun_17.
On the 23rd November 2007, The first Add-On of Supreme Commander is available after a community-played (and listened to) Beta. A new era of the successful SupCom was just beginning over the solid foundations of the previous opus.
As you might notice, this chapter of SupCom history will be much shorter, as there are less than 40 days between the release and the end of the year 2007. However the activity around the game was very dense. The switch from Vanilla to Forged Alliance was way more difficult and deep than most players expected.
Differences
Edit
Forged Alliance got some excellent critics and reviews. Some people were even talking about an entire new game more than a simple expansion:
-New graphics and optimisation
-110 new units
-An entier new faction : The Seraphim
-A new campaign following the storyline
-And before all a total rework of the gameplay.
Note : you needed Vanilla and FA to be able to play the 4 factions online.



The overarching change was a new gameplay, searching for more dynamism and constant aggression with the same nonetheless growing community. The turtle strategies in vanilla were too safe and the advantage gained by a good map control was not significant enough to secure a win against a turtle strategy. By a huge nerf of T1 (now T2) and T3 mass fabricator, and a more spread mass extractor field, the fight for the map was now a must have! GPG also worked on balancing the 4 tech levels to get those reached one after another, although a heavy T1 land spam followed by a T3 air rush appeared as one of the strongest strategy.
Community
Edit
On the players side : the chance for newcomers, the fear of former champions, the resistance of vanilla addicted was making an exciting and exploding state. The community was so dynamic in every direction that it needed some order, some leaders.. That's when the SCL team already known from Vanilla started to organize things. A main website and forum was available for the community, and TheBigOne was organizing the SCL Coliseum Clan League to bring some challenge in addition to the ranked and daily tournaments.
Note that SCL sadly closed his website and forum in 2010, losing an incredible amount of tournament results and archives
In the first weeks, people were talking of the "Not so easy switch" (between vanilla and fa). We had noticed some new dangerous players in the beta, like CrazedChariot, mephistophie_ua, Zock, Dark Ragnos or HellsHound, however the ranking and results was there : BlueScreenISU, more dominant than ever was taking the first place of this new ranking. He's the one who established the "normal" 2 factories build order that we're still using everyday.
He managed to reach a 80 wins 0 lose until the first defeat from an emerging top 10 player : Zock.
Each rare lose from BlueScreen was making a lot of noise in the community.
Actually he reached a 123-3-2 result. His other ranked lose was from the totally unknown blackjuge then 3rd one by a disconnect. His training partner Bhaal was also a very dangerous top10 player. ISU trailer :
SCL was still very active with SirLoui dominating little by little this new game. TLO, RS_Gollum and Beetle were also part of the top20, but some other members like Djinn, TBO or Battlemoose couldn't get used to this new gameplay, and didn't manage to perform well.
SCL Coliseum launched Season 1, and the clan league type of tournament was something the community really wanted. During this first season 300 viewers (a good number for 2007 old streams, and probably more with live replays) were following and supporting every week their favorite pro clans between SCL (EU) , RIP (FR) , TAG (EU) , TFU , ISU (DE). The clan league was fully casted by Deman, and VoDs are still available on QuadV  (it is required to create an account) :
With some back and forth, it's finally the unexpected TAG clan who won with some impressive 2vs2 teamplays. ROCK, duris, Natas _PINK and the new hired player mephistopile_ua managed to use FA's gameplay more effectively.
With the success of this seas
on 1, TBO and RIP's clan leader VerseauX were launching, 2 weeks later, the season 2 in the end of December, this time opened to any clan level.
Note : From those 5 clans, sadly only TAG and TFU clan leader (FunkOff) were still active in 2012 on FAF, although a lot of players still comes for 1 or 2 friendly games.
2 notable players from SCL Coliseum season 1 were SCL_TheLittleOne and TAG_ROCK_.
Note: TheLittleOne is a StarCraft2 professional player since 2010, under the name of LiquidTLO.
He's also known on sc2 for his very creative and risky play style.
He's still very appreciated from the FAF community, who'd love to see him back to SupCom.
An other important organization was the french Website : Sup Com Alliance (SCA).
Already known in Vanilla, they were leading a weekly 2vs2 king of the hill french tournament called Calypso. Using Teamspeak for the commentary, live replay for the video, and gpgnet french chat room, about 80 players were watching this weekly tournament. Surprisingly, french international caliber players like JacK__, Mat, VerseauX, Dark Ragnos, monarch were losing to new underdogs like Daxterfuss, Jerchaco. The tournament was very intense because no one managed to get the 5 wins in a row, even the favorite Beetle and his RIP mate Minidoow failed at the 5th match.
Concerning the ladder, after the reign of BlueScreen over #1 rank, Sir_Loui finally took the throne just at the end of the year, but without the domination he used to get on Vanilla.
Some other good new clans were becoming dangerous and promising for next clan league season :
-VoW(Voices of War) with Zock, Ridley, Zulan, Kryo and FunnyPredator (German clan)
-AKC (Anarky Clan) with more than 150 members. Ciata and Veleiro for active members.
-SBL(Snake Be Long) with GovtCheese, Dawkins and SimpleGreen31 (US clan)
-VAS(Viper Assassin Squad) with mashup, Leaf, donuhue and LawnMower (and Maverick!)
Gpg finally patched 3596 FA to 3598 in December. This patch was quite a disappointment for the community: it arrived late, and did not fix more than 30% of the identified bugs. (Sera ACU was still receiving shots in the feet, T3 strategic bombers were still missing with their first bomb, etc.)
Even if the game itself was a success, the lack of presence from Gpg was a first sign of fear. Volunteer admins like TCC (TheCoreCommander) and TAC (TheArmCommander) were not hosting tournaments anymore, and the patches were not coming fast enough. This is the main difference between vanilla and FA: When before GPG was taking part in SupCom's life, now the events had to be organized by clans or community websites. The community was still very active, with 800 players online each EU evening, peaks at 1000 players online. However, people were already starting to think of how Sup Com would look like in one year...
FAF forums thread in which Lu_Xun_17 compiled this full history of Supreme Commander.
~
Previous Article: History of Supreme Commander 1: Vanilla 2007
Ad blocker interference detected!
Wikia is a free-to-use site that makes money from advertising. We have a modified experience for viewers using ad blockers

Wikia is not accessible if you've made further modifications. Remove the custom ad blocker rule(s) and the page will load as expected.