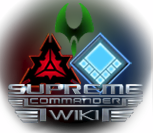 Welcome to the Supreme Commander Wiki
The Wiki has a basic structure right now, but needs more information. If you have a copy of Supreme Commander or Supreme Commander Forged Alliance, we need all the help you can give in the form of unit analysis, screenshots, and strategy information!
News:
GPG Net for SC:Vanilla and FA is now offline, visit
the GPG forums
for more information. If you wish to play multiplayer Forged Alliance visit
Forged Alliance Forever
, a free option for FA multiplayer.
Featured article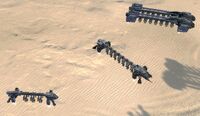 A ghetto gunship is a transport loaded with LABs (T1 light assault bots) that can fire from the transport. The unit has high dps but is vulnerable to flak that will destroy unprotected LABs. (More...)

Featured media
An Aeon T3 Rapid-Fire Artillery Installation
, opening fire. Note the power generators providing an adjacency bonus.
Game Information - Basic information on the requirements and gameplay for Supreme Commander

Game analysis

Units and Locations

Universe

Factions
Supreme Commander internals
Contributing
This wiki needs your help! Please contribute what you know. To get started, see the
Community Portal
.
If you are new to wikis, check out the tutorial.
Adding content
Talk and more...
Check out the community portal to see what the community is working on, to give feedback or just to say hi.
Latest activity
</div>