GPGNet - "The Vault"
Edit
To distribute your map easily it might be the best idea to use "The Vault" in GPGNet.
Select the "Upload" tab, and specify a base directory by clicking on the link "Select Upload Locations". A good idea would be, e.g. "C:\SupcomUploads\", but you can leave it at the default value too.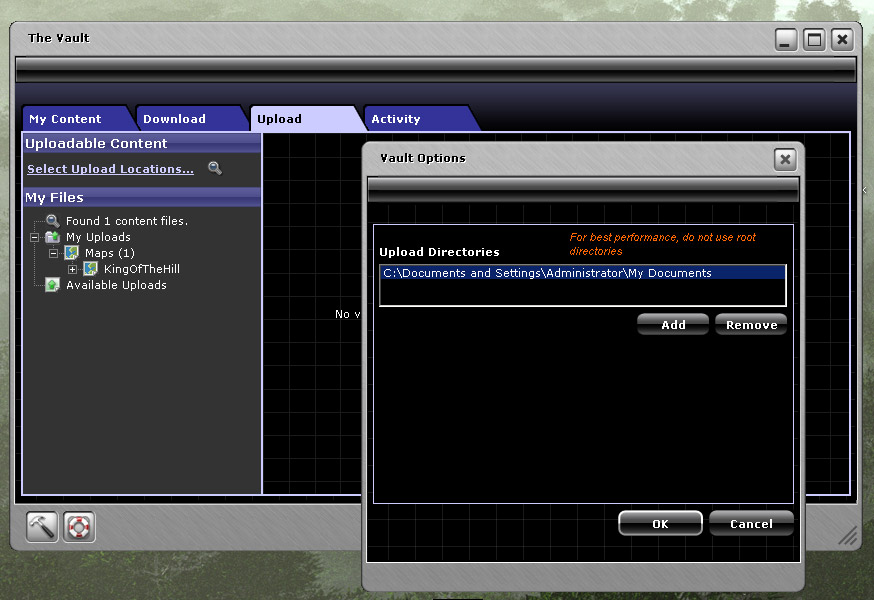 Then, create a new directory inside your upload directory, and copy the map and the three script files into it (if you have more files, e.g. additional scripts, or a readme.txt file, copy them too):

The Vault will now detect your map and display it under "Available Uploads" on the left side. Select your map, enter a description and press the upload button.
Versioning
Edit
If you make changes to your map or map scripts, and want to upload a newer version, this is simple. Just copy the updated files again to the directory you created before (see above). Then, under "My Uploads", "Maps (1)", select your map. On the right side, type in some text (what you have changed, etc.). Then press the button "Upload new version".
If you want to remove old versions from the vault, just select them and press the delete button (the one with the trash can symbol no it).
Other places
Edit
You can distribute your map by other means too (e.g. put it on a webhost). You should include a readme with installation instructions though. To do so, simply zip the directory that contains your map files, and upload it to a webhost.
Todo: list some websites with map databases?
Ad blocker interference detected!
Wikia is a free-to-use site that makes money from advertising. We have a modified experience for viewers using ad blockers

Wikia is not accessible if you've made further modifications. Remove the custom ad blocker rule(s) and the page will load as expected.