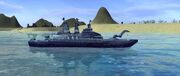 Im intending to show not all of the warships, because some utilized exactly the same models of the original game, without any modification or creative skill.
However, some battleships that utilized part of hulls of the of Cybrans and UEF were included.
Also I will present here the concepts that not turned into lite nor the game.
Ideas showed in these concepts are always welcome for the future mods.
Battleships
Carriers
Cruisers
Destroyers
Submarines
Artillery Ships & boats
Scouts & Avisos (despatch boats)
Costruction ships & Boats
Ad blocker interference detected!
Wikia is a free-to-use site that makes money from advertising. We have a modified experience for viewers using ad blockers

Wikia is not accessible if you've made further modifications. Remove the custom ad blocker rule(s) and the page will load as expected.